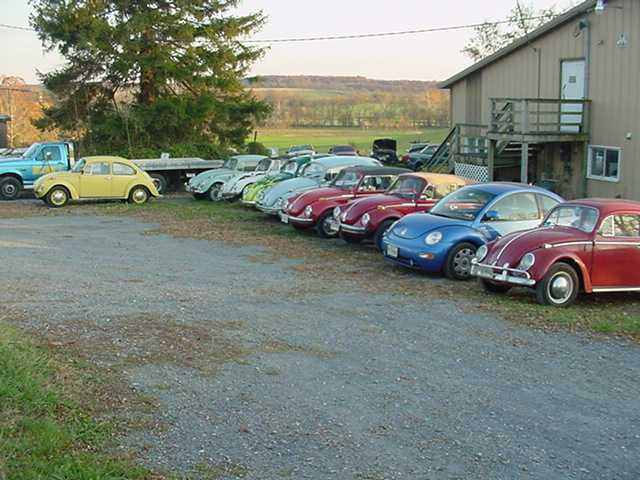 POLICIES OF MARK 1
1. Our service work order forms must be signed by
the customer, please include the following,
A. Name, Address, Phone numbers
B. Problems (things that don't work)
C. Symptoms (stalls, bucks, jerks, etc.)
D. A list of service work due to time or
mileage.(oil change, tune up)
2. Please don't ask for a specific repair
let our technicians determine the source of
the trouble.
Remember "assumption is the mother of all unnecessary repairs"
3. During business hours please bring your note into
the office and leave your keys in the car. After
hours, leave the note in the car and put your keys in
the brass mail slot. Please leave only your car key (s).
We can not replace any other key if lost.
4. You, the owner, are responsible to contact this shop
for the status of your repairs. Please limit your calls
to 3 per day. Good times to call are just after 9 a.m.,
1 p.m. and 5 p.m. (Try not to call between noon and 1
p.m. lunch)
5. First visit customers, cars for sale, and unregistered
vehicles (no license plates), must pay cash or credit
card. NO EXCEPTIONS. A deposit is required on
unregistered vehicles or vehicles that do not have the title in your name.
6. The minimum repair charge is $19.00. The minimum
repair charge when the car is put on the lift is
$38.00. Our labor rate is $76 per hour flat rate. That
means if we do it faster or slower we get paid the same
amount. We charge $152 per hour for A>Z time,
electrical repairs and for test and check out.
---
---
7. Repair bills must be paid promptly. We have a three
day grace period after work has been completed. We
accept VISA, MASTERCARD, AMERICAN EXPRESS
and DISCOVER.
Checks returned for any reason will be assessed a
$25.00 service charge plus 10%.

8. Cars left with unpaid repair bills for more than
three days are subject to storage charges. Storage
charges start on the first day on inoperative cars or
cars with expired license plates.

9. Arrangements must be made in advance for other
plans. You may pay your repair bill then pick your car
up after hours. We do not charge storage on cars with
paid repair bills. Until 30 days have passed.

10.If you plan to leave your car for an extended period
of time, please make arrangements in advance. Cars
may or will be driven at the owners risk in lieu of
storage charges. Storage charges may still apply.



---
HELPFUL HINTS from MARK 1
1. Have friends or co-workers pick you up or drop you
off to get your car here. If they live nearby, you can
drive up early and have them meet you. They can drop
you off after work. Please call to confirm the completion of repairs.
The MARC train now comes to Frederick Downtown.
You can take the
Frederick County Transit
Shuttle to Walkersville Safeway Shopping Center.
click here
for pdf map.
Click here
for pdf Walkersville schedule
You may call us and we can pick you up from Safeway.
Call 301-695-2633 or on the web at www.co.frederick.md.us/Transit
1: Limit your calls to one in the
morning and one in the afternoon. We will call you
back. Do not let the phone ring more than five times.
We may be on another line speaking with another customer.
We have caller ID.

2. Cars can be ready by 12 noon for minor repairs.
Please arrange this by putting your request on your
service order and call by 9 a.m. to confirm. Most cars
are ready the next weekday by 5 p.m.
Shop closes @5 p.m.
the office closes @6p.m.

3. We are not a Maryland Inspection Station, however,
as a courtesy, we will shuttle your car to an
authorized inspection station when we are doing the
repair work.(Woodsboro Auto Repair 301-898-3173)

4. It is not a good idea to wash your car before
leaving it for service because of the dusty conditions
caused by our gravel driveway.

5. We would appreciate your removing all belongings
and trash from inside the car and the trunk. This
will prevent any possibility of hampering our
repair efforts and test driving.

6. The farm equipment has the right-of-way on the
driveway. Please do not allow your ride to wait in the
main driveway. Farm vehicles are constantly going in
and out and need a clear berth.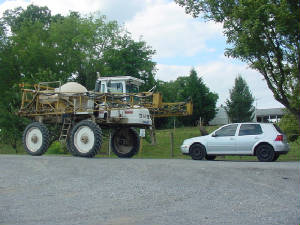 7. Please don't park in front of other
cars or block any other car in. They may be picking
up their car. Please park in a space.
MOST OF THESE SUGGESTIONS CAN HELP YOU
HAVE ANY CAR REPAIRED ANYWHERE.
A word about social media, the few complaints posted in various fourums about a business is not a true reflection of that business. Consider us, in business for 37 years, we do not advertise, we have never advertised yet we are still here in an industry notorius for poor service. You will see complaints, and a few praises, the complaints come from tech savvy belly-achers who do not have the common sense to contact us about their problem after the visit. The praises come from satisified customers who cannot understand why anyone would complain rather that seek a solution. In our industry no news is good news, if there is a problem after a visit, call us, we are here to help. If you do not let us know there is a problem, we do not know there is a problem...
Think of this, you are in your favorite restaurant, there are hundreds of people here every day, then you look up the yelp or google rating and read a hand full of reviews, there are a dozen complaints over the last 6 months? what? six complaints about poor service or bad food after 18,000 people have eaten here. Consider the percentage and there is always one person in a thousand who just does not get it. Bad food, send it back or order something else, poor service, see the manager, it is your money, complain then, not when you get home on the computer.
---
WE DO NOT OFFER CREDIT, WHY?


YOU ASK US FOR CREDIT AND WE GIVE IT TO YOU.

THEN SOMETHING ELSE BREAKS ON THE CAR,
BECAUSE YOU OWE US MONEY, YOU GO
SOMEWHERE ELSE TO HAVE IT FIXED,
WE HAVE LOST YOU AS A CUSTOMER!

THE CAR GETS WRECKED, WHY BOTHER
PAYING ANYMORE?


YOU SELL THE CAR, WHY BOTHER PAYING ANYMORE?

SOMETHING GOES WRONG AND YOU BLAME US RATHER
THAN GIVING US A CHANCE TO FIX IT,
WHY BOTHER PAYING ANYMORE?


WE HAVE BEEN HERE FOR 20 YEARS, AND YOU MOVE AWAY,
WHY BOTHER PAYING ANYMORE?

WORK TO DRIVE, DRIVE TO WORK,
YOU CAN'T GO TO WORK WITH THE
CAR BROKEN DOWN, BUT WE ARE THE LAST
PEOPLE TO RECEIVE A PAYMENT.


WE MADE A DEAL WITH THE BANK,
WE DON'T LOAN MONEY AND THEY DON'T FIX CARS.


See Mr. Visa, Mastercard or Discover to help you pay.

THE END OF THE DRIVEWAY
IS THE LINE OF CREDIT




---

MARK 1, TOP TEN LIST OF THINGS THAT BUG THEM


(1) LETTING THE PHONE RING MORE THAN 10 TIMES

(2)CALLING ALL OF OUR PHONE NUMBERS
IN AN ATTEMPT TO GET THROUGH

(3)NOT LEAVING A MESSAGE

(4) STANDING IN THE DOOR WITH THE BEEPER BEEPING
(IT BEEPS IN THE SHOP TOO)

(5) HAVING YOUR RIDE WAIT IN THE MAIN DRIVEWAY
(BLOCKING FARM TRAFFIC)

(6) CUSTOMER CALLING BEFORE 5P.M. ON THE SAME DAY
THEY DROPPED OFF THE CAR TO SEE IF ITS DONE.

(7) PEOPLE WHO BUY A CAR THEN HAVE US
CHECK IT OUT ONLY TO FIND WE COULD HAVE SOLD
THEM ONE OF OURS INSPECTED FOR LESS.

(8) NOT READING THIS STUFF ON THE INTERNET.

(9) DOUBLE PARKING

(10) DRIVING TO THE BACK OF THE SHOP AND COMING IN THE BACK DOOR




CUSTOMER, TOP TEN LIST OF THINGS THAT BUG THEM


(1) CAN'T GET MARK ON THE PHONE.

(2) DOESN'T WORK ON CARS OTHER THAN VOLKSWAGEN

(3) CAN'T UNDERSTAND WHY MARK CAN'T
FIX THEIR CAR OVER THE PHONE

(4) WHY CAN'T I WAIT FOR THE REPAIR ON MY HOT ENGINE?

(5) I SEE ALL THE "NO PARKING" SIGNS,
BUT NO "PARKING" SIGNS.

(6) WHY DIDN'T I GET MARK 1 TO CHECK OUT THIS CAR BEFORE BUYING IT?

(7) WHY DOES MARK WANT TO KNOW WHY I'M BUYING THIS PART?

(8) WHY IS THE OFFICE CLOSED FROM 12 TO 1 ?

(9) YOU ARE NOT OPEN 24 HRS

(10) FIX MY HORN, MY BRAKES DON'T WORK.



---
BUMPER STICKER FUN


HANG UP AND DRIVE

WHERE DID ALL YOU 4TH GRADERS GET A DRIVERS LICENSE?

YOU! OUT OF THE GENE POOL

SAVE THE PLANET, KILL YOURSELF

SAVE A COW, EAT A VEGETARIAN

P.E.T.A , Pretty Excellent Tasting Animals

Isn't it time to change the air in your head?

Bad cop, no doughnut.

ARTIFICIAL INTELLIGENCE IS NO MATCH FOR NATURAL STUPIDITY
HONK if you love Jesus, text while driving if you want to meet him
Nobody says on their death bed "I wish I had eaten more rice cakes"
"Never doubt that a small, group of thoughtful, committed citizens can change the world. Indeed, it is the only thing that ever has."

--Margaret Mead
"A government big enough to give you everything you want, is big enough to take away everything you have"
--Thomas Jefferson
Cheerios called, they want their drivers license back
---

age is a measure of time , wisdom is the measure of how we used that time
It is better to want what you don't have than to have what you don't want

Having your car repaired. Speed, Price, Quality, pick any 2.

The difference between acceleration and exhilaration is speed and finesse.

Lack of planing on your part does not justify an emergency on my part.

If guns kill people, I'm going to start blaming my spelling mistakes on my pencil.
---
Interesting feedback comments left by this person. click here
---
A few words of common sense
This Web page is maintained by Mark 1. The words
"VW" and the names "Volkswagen", " Bug", " Beetle", are
registered trademarks of Volkswagen Group of America
and Volkswagen Ag. The use of these words by this web
site is for the sole purpose of application and
description and in no way denotes their use to infer or
imply a direct connection between Mark 1
and Volkswagen Group of America or Volkswagen Ag.
MARK 1 SERVICE
is NOT an authorized Volkswagen Dealer.
Mark 1 is an independent repair shop and distributor
of aftermarket and oem parts for custom, restoration
and general repairs to Volkswagen cars. The use of
the names is solely for descriptive purpose and does
not imply any direct connection with those companies.

---