WE ARE OPEN TO SUPPORT OUR CUSOMERS WITH SERVICE AND TOWING
call for an appointment 301-898-9444
KEEP US GOING BY KEEPING YOU GOING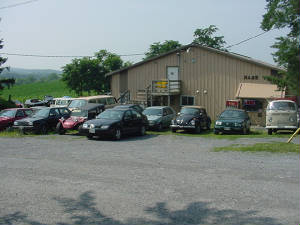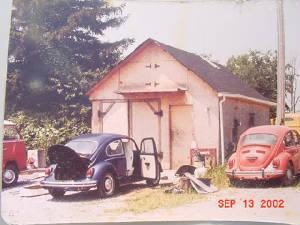 Where it started, around 1979

Mark can stay so you can pick your car as late as 6pm. Please call ahead if you cannot pick up your car by 5pm.

We will closed on
Monday September 4th
Thursday November 23rd
Monday December 25th
Monday January 1st






We are now called
MARK 1 Service
SPECIALIZING IN REPAIR OF VOLKSWAGENS
9633 Woodsboro Pike, PO BOX 444, Walkersville, MD 21793-0444
(301)898-9444 is now a smart phone, there are no landline phones in the building.
You can text this number, do not leave voice mail.
.
Walk-in service on Saturdays 10-2 for pick up, drop off and engine scan, keys made, part sales, minor repairs.
No oil changes or anything bigger on Saturday.
Monday through Friday 8am to 5pm, service is performed 9-5
One day service on most repairs with 24hr appointment. This does not include figuring out the problem,
This would apply to straight forward repairs like replacing brake rotors and pads, not getting engine lights to stay off,
Breakdown today, we will work on it tomorrow.
We do everything, install Interstate batteries, change oil, brakes, exhaust, engine light coding, motor work, used parts, new parts, whatever your daily driver needs. Windshield, tires, trim.
Map of 9633 Woodsboro Pike
Walkersville, MD
21793


Click here for Google Map
mark1service@comcast.net click here to email
Need a car serviced that is not a Volkswagen?
Click Here for www.theshopautowerx.web.com at 7 Council DR for audi, mercedes, etc
Want to eat lunch not a fast food place when you are here? Links below to good food.
pizza http://www.yelp.com/biz/caseys-pizza-and-grill-woodsboro
Engine Light Codes
We have all seen the TV adds for checking your engine light code for free. Be advised that turning it off is not free. The object is to get you in their shop for a repair. Places that sell parts will often suggest parts related to the code. For example, a multiple missfire code P300 might indicate the need for new spark plugs and wires or coil pack. But a vacuum leak causes a lean condition in the motor and triggers the missfire. So after replacing $ in parts, you still have an engine light on and a problem. We specilize in VW and are aware of most odd or related defects not directly related to the "code". Another example is the TDI engine cars from 1998 to 2004 has a blinking glowplug light. Would you belive that is caused by a defective brake light switch! so replacing glow plugs, relay, etc will not fix that issue. The switch feedsback through the engine computer and causes the light to blink, The brake light switch has two functions, turns the brake lights on and signals the engine computer to reduce the fuel going to the engine to help slow the car during braking.
So you can take your chances with the auto parts stores, oil change places and transmission shops. But the better money spent is with the shops that specialize in your Volkswagen.
Diesel timing belt controversy
Some owners manuals state to replace the timing belt every 40,000 miles.(automatic transmission) Others state 60,000 miles.(96-2000) Yet newer 2000 TDI vehicles state 80,000 miles.(after engine #500,000). In the owners manual of the 2003 Jetta it says 100,000 miles.
Older 77-91 diesels had a service interval of 60,000 miles using a not sealed roller and a bearing tensioner with metal pully that you set the tension which needed to be checked every 30,000 miles.
Newer 96-04 vehicles have self tensioning tensioners with sealed roller bearings and composite (plastic) pully.
It would seem that a tensioner pully designed to prevent stress to the belt would allow the belt to last longer. Longer than the original proven 60,000 miles.
The TDI belt is only a couple teeth longer and the same width as older diesel belts. The 80,000 mile belt is the same price!
City driven TDI engine cars may only log 6,000 miles a year,
that may be the reason VW required the 40,000 timing belt service interval.
The self tensioning pullies that we have replaced seem to feel and spin just like a new one. The service interval on VWs web site calls for checking the tensioner at 40,000 and 80,000 miles but not replacing the tensioners or water pump?
We have customers with a 1998 and newer TDI vehicles now exceeding 75,000 miles and one with 88,000 miles without belt replacement.
We have replaced many belts over 65,000 miles.
We have a customer with a 2000 TDI @ 147,000 miles, original belt!May/04
By now, 2010, all older timing belts have been replaced. The replacement parts used increase the service interval to 100,000 miles. Water pump bearings fail at 115,000 to 120,000 miles and drop the timing belt causing engine damage, so it is not the belt at issue but the water pump! It is your choice, search the net for more information. Forums at
vwvortex
40,000 mile diesel service: oil change, cabin filter, air filter, fuel filter $199 or less.
PERFORMANCE 1998-2005 TDI motors
Want to know more? Check the forums at
www.tdiclub.com
Have you had problems accelerating? Will your motor not go past 4000 rpm? Then you may have a coked egr valve with deposits clogging the intake. There is now an induction cleaning service to clear the exhaust turbo of deposits and dissolve the oily chewing gum substance from the intake without taking everything apart.
Service includes 5 cans of chemicals, 2 for the exhaust and 1 for the intake. Oil additive and fuel additive. Chemical kit and service $399 includes synthetic 5w40 oil change. It will run a whole lot better. Please call for an appointment and drop your car off. No wait-on for this service.
99-03 Turbo 1.8t Passat motors.
Volkswagen of America has recognized there is a problem with sludging of oil causing oil circulation to be diminished. Ultimately leading to engine failure. High temperatures from the oil leaving the turbo and a 3.7 quart oil capacity of the motor are working against each other. Service bulletin now suggests using the TDI spin on oil filter from the 96-98 motors to help increase oil capacity (which does not fit properly). VW is replacing failed motors only if you can document the oil changes have been performed every 5000 miles. You will need receipts for oil and filter purchase if you have been doing it youself. Link to consumer complaints about VW cars,
click here
Water pump failures are covered up to 60,000 miles.
TIMING BELT JOBS
It is not necessary to replace your timing belt if you have a 75>92 Volkswagen with an 8v motor. Unlike other cars they don't have valve damage when the belt breaks. The engine WILL stop running. If you have a diesel or 16V motor. Diesels,16V motors will suffer severe engine damage. These motors should have their belt replaced every 4 years or 60,000 miles.
The 93 to 99 cars may suffer valve damage. 1993 and newer 8v gas engines should have their timing belt replaced @ 90,000 to 105,000 miles.
Diesel 1977>1992 60,000 mile $262
8V gas 1993>1998 90,000 mile $199
16V gas 1986>1992 60,000 mile$249
8V gas 1974>1992 engines $187, with ac $295, more belts, more work
TDI.96-98 golf/jetta III 60,000 mile $649 includes idler & rollers (AAZ AHU 1Z motors)
TDI 99-04.golf/jetta IV 100,000 mile $949 includes idler rollers serpentine belt and new (ALH & BEX motors) 038 waterpump, $1249 includes serp belt tensioner and alt slip pully
TDI 04-06 golf Jetta IV 100,000 mile $1249 includes idler rollers serpentine belt, and new 045 waterpump (BRM motors)
V6 Passat 1998-2003, 100,000 mile $1275, includes belts, rollers, water pump, thermostat
We use NEW German water pumps with metal impellers, not rebuilt, not plastic.

Why would a VW dealer or repair shop not replace the rollers and water pump when failures are common at 120,000 miles?
It is not the belt at issue, it is the supporting hardware. Severe engine damage occurs to TDI motors when the belt jumps out of time.


Extra labor charges apply to some models and you may need or want other related repairs with the timing belt job
such as V belts, oil leaks, rollers, water pump and motor mounts.
We highly recomend all 98 (4th generation) and newer Volkswagens replace the water pump with the timing belt. Lots of pump failures after 90,000 miles. The impeller is plastic and it breaks. Then the engine runs hot. Should the pump bearing fail, driven by the timing belt, you will have severe engine damage.





FRONT BRAKE JOBS


Most Volkswagens after wearing out the brake pads, have worn out the rotors too, the ability to stop has little to do with the thickness of the brake pad or rotor, but more to do with the integrity of the hydraulic system. The Master Cylinder, brake calipers, wheel cylinders, hoses and metal lines.

New front brake pads & two new rotors & labor:

75-84 Rabbit $180 Rabbit GTI $199
85-92 Golf/Jetta $180 GTI/GLI $199
75-83 Scirocco $180 84-86 Scirocco $199
86-88 Scirocco16v $239
93-99 Golf Jetta 2L $239
00-04 Golf Jetta New Beetle $299
Bug brake jobs from $129(front or rear)
Bus/Vanagon rear brake jobs from $249
We have a 3000 AMMCO brake drum rotor
lathe


CLUTCH JOBS
New clutch plate, disc, trans input shaft seals
75-84 Rabbit $648 83-92 GTI $738
80-84 Jetta $648 84-87 GLI $748
93-98 Golf/Jetta 3 $598 to $698 83-86 Scirocco $648
86-88 Scirocco16v $798 86-88 16v Golf/Jetta $698
67-79 Beetle $298 67-71 Bus $319
TDI dual mass clutch job with flywheel $1500
DEALER RECALLS

85-90 Golf & Jetta Heater Core: SYMPTOM: Sweet smell, smeary
windshield, steam inside car, windshield fogs up when defroster is on!

1993 to 1999 with automatic transmission failure. If you are the original owner with less than 100,000 miles, it may be covered under warranty.

99 1/2 to date Golf, Jetta, Beetle, window regulator malfunction 7 year no mileage limitation.

99 1/2 brake light switch, no mileage limitation
CONTACT YOUR LOCAL VOLKSWAGEN DEALER,
IT'S A FREEBEE! (If the recall has not been done previously.) If you have paid for these repairs, contact Volkswagen of America Customer Service to be reimbursed.


ODOMETER REPAIR (mechanical)
We repair your odometer and warranty it for 90 days Rabbit Scirocco
Fox Jetta.Golf $170 + $68 Golf/Jetta with kneebar

WATERPUMP JOBS
74-92 New waterpump $49 Rabbit, Scirocco, Jetta, Golf.
Labor without airconditioning $150, with ac $229
Add $34 with power steering.

FRONT END WORK
Front wheel bearing includes installation:
Rabbit/jetta/scirocco >84...................$299
Golf/Jetta...........................85>92.....$329
Dasher/Fox..................................... $399
Rear bearings all drums $ 149......disc brake.......$239

BEETLE SERVICES
ENGINE
German Muffler installed $299
Engine service $ 99
Rebuilt motors:
Completely installed, shroud painted etc $2599 to $2999
Bring the motor in to us complete $2250
Long block(remove the shrouding & exhaust) $1599
Core charge for broken or cracked engine blocks $300, $1350 for new blocks
Engine parts:
Fuel pump $49
PICT34 CARB $349 PICT30 CARB$299
BOSCH 009 DISTRIBUTOR $99
HEATERBOX(left or right)..64-74 $189 75-79 $349
6 Volt to 12 Volt Conversion $899
BOSCH Generator $129 installed $429
BOSCH Alternator $259 installed $549

BODY AND CHASSIS
Rocker Panels and Running Boards $ 19
Floor Pans 57-72 $99 73-79 $139
Bumpers 57-67 $99 68-73 $ 35
Beetle Fenders all front $199 all rear $ 179
Used engine lids 65-79.$150 Used Hoods $100-$600
--Aprons, Valances & Rust Repair panels in stock or available--

-We stock our own parts-new & used-

We stock new golf and Jetta fenders, hoods, headlights and we do minor body damage repairs. Such as damage by hitting a deer and fender benders. Door replacements, we may have the same color! We replace broken windows, taillights, used tires and wheels at a fraction of new cost. Door handles and wiper arms repaired while you wait.

ALL RIGHTS RESERVED, © 2023(c)


GENERAL REPAIRS
80-92 VANAGON TRANSMISSION INSTALLED..4spd.USED$1300
80-84 RABBIT TRANSMISSION INSTALLED USED $950
85-87 GOLF/JETTA TRANSMISSION INSTALLED USED $900
85-87 GTI/GLI TRANSMISSION INSTALLED USED $950
86-92 16V TRANSMISSION INSTALLED USED$1200
85-92 GOLF/JETTA AUTOMATIC TRANSMISSION installed USED$1200
96-99 GOLF JETTA AUTOMATIC TRANSMISSION installed USED$1850
REBUILT TRANSMISSIONS TAKE TIME TO REBUILD $CALL
WINDSHIELDS INSTALLED...all out of stock
75-82 RABBIT,80-84 JETTA, 80-92 CONV .$166 new seal $30
65-72 Beetle conv $189 new seal $22
65-77 Beetle,71-72 Super Beetle $115 new seal $22
73-75 Super Beetle $135 new seal $30
We stock West Coast Metric weatherstripping........
ANTENNA REPLACEMENT
Bugs from $16 up to 85-92 Jetta $115 mast for your roof antenna $20
AIR CONDITIONER
Evacuate and recharge system, includes R134a $129
We can clean the entire system & convert 85-92 GOLF/JETTA to R134a .$565
Upholstery Services contact
Joes Upholstey
@ 301-662-5006
1009 East Patrick St, Frederick Maryland 21701
"Inst." means Part & Labor
Labor rate based on $76 hr flat rate.
Locksmithing -Key your doors to your ignition-
Make keys for locks that don't have keys.
-Prices contained herein are subject to change-
-We Ship USPS Every Day With Saturday Service
-Orders taken before noon will be shipped that day-
We accept Visa, Mastercard, Discover & Amex.
FIRST VISIT CUSTOMERS-NO CHECKS
WE HONOR PRICES FROM Mid America Motor Works
& THE PARTS PLACE FOR OVER THE COUNTER SALES
We buy, sell and trade Volkswagen toys.
Hotwheels, Matchbox, SIKU, Corgi, etc.
F.Y.I. VOLKSWAGEN OF AMERICA PHONE #S
VISIT VOLKSWAGEN OF USA WEB SITE WWW.VW.COM
VW CUSTOMER SERVICE VOLKSWAGEN INFORMATION RECAL BULLETINS
800-822-8987 800-444-8987 800-544-8021
IF THE PRICES LISTED HERE LOOK TOO GOOD TO BE TRUE
OR IF THEY LOOK TOO HIGH, CALL US FOR A FREE QUOTE.
WE CAN MAIL, Email OR FAX IT TO YOU.
Maryland inspected used Volkswagens for sale by
WOODSBORO AUTO SALES 301-898-9463
WOODSBOROAUTOSALES.COM
See our items on Ebay
mark1service@comcast.net
ENGINE SERVICE (tune up)Visual inspection of car check fluids.
Includes: Platinum Sparkplugs, distributor cap & rotor, fuel filter & air filter
and labor, most cars thru 1992 ~ $199
Valve cover gasket replacement $82 8V motor. All Bosch Fuel and Ignition Parts. All parts are OEM. (original equipment manufacturers)
WE HAVE THE VAG 1552 and VAS 5052 TO DIAGNOSE YOUR ENGINE, ABS & AIR BAG CODES
1993 to 1999 Golf, Jetta, Passat, New Beetle Services
With 2000cc Gasoline Engine Service.
30,000 mile: air filter, plugs, cap, rotor, code engine $249
60,000 mile: air filter, plugs, cap, rotor, code engine $249
90,000 mile: air filter, plugs, cap, rotor, code engine replace timing belt, groove belt and tensioner $499
TDI 1900cc Diesel Engine Services 1996-2003